Senate passed a bill calling for greater sanctions on North Korea. It will get reconciled with the House version before another round of votes. House passed a bill to address the Flint Water Crisis. Supreme Court halted the President's Climate Plan. And the "Judicial Redress" and Customs Enforcement bills are headed to the President. Meanwhile, a House Transportation Committee meeting brought a new version of the "smoke-filled room" as Members debated privatizing the air traffic control system.
---
Top Search on POPVOX this week: "hr4476"
Most Active Bill on POPVOX this week:
HR 3293: Scientific Research in the National Interest Act

---
House Passes Kildee-Upton Safe Drinking Water Bill


After weeks of hearings and stalled energy bill (with $600 million Flint amendment), the House took action to address Flint water crisis and passed safe drinking water bill by a vote of 416-2, with Reps. Massie [R, KY-4] and Rokita [R, IN-4] in opposition. The Safe Drinking Water Act Improve Compliance Awareness Act would improve information sharing between public water utilities, state officials, EPA, and consumers. The bill would also amend the Safe Drinking Water Act of 1974, requiring public water utilities to notify consumers of excessive lead in drinking water. If the state or local community didn't inform consumers of lead positive results, then the Environmental Protection Agency would do so.

Bill sponsor Rep. Dan Kildee [D, MI-5] called it a "first step" and Chairman of the House Energy and Commerce Committee Rep. Fred Upton [R, MI-6] spoke to the failure of communication. "Our hearts all go out to the folks of Flint, Michigan. The system let them down at every level, and that's unacceptable."
What's next? The bill goes to the Senate for a vote.
Meanwhile, there are several Flint water crisis related bills and Congress will hold several related hearings. After initially refusing to testify, both Michigan Gov. Rick Snyder and Flint Emergency Manager Darnell Earley will testify before House Congress within the next month. The House Committee on Oversight and Government Reform will also hear from EPA manager, former Flint mayor, and Virginia Tech researcher. House Energy and Commerce Committee will hold a hearing next month.
H.R. 4479 FAMILIES OF FLINT ACT
Sponsor: Rep. Dan Kildee [D, MI-5]
S. 2491 CHILD ACT
Sponsor: Sen. Gary Peters [D, MI]
H.R. 4479 FAMILIES OF FLINT ACT
Sponsor: Rep. Dan Kildee [D, MI-5]
H.R. 4438 DRINKING WATER CONTAMINATION EMERGENCY SUPPLEMENTAL APPROPRIATIONS ACT, 2016
Sponsor: Rep. Candice Miller [R, MI-10]
---
Senate Passes Amended North Korea Sanctions Bill


In a unanimous vote, (96-0), the Senate voted to impose tougher sanctions on North Korea, which reportedly recently tested a hydrogen bomb and launched a long-range missile into space, in a move condemned by the UN Security Council. The Senate-passed bill was an amended version of the House-passed North Korea Sanctions Enforcement Act (H.R. 757). House and Senate leaders will now work together to produce a final bill to be considered by both chambers.
---
"Judicial Redress" Bill Sent to President

The House and Senate passed the "Judicial Redress Act," which now goes to the President for his signature. The bill was introduced in response to a European Court of Justice decision, which found that EU citizens' privacy rights were not sufficiently protected when a US tech company kept data about those citizens on servers within the US, in the wake of the Edward Snowden revelations. The data transfers had previously been allowed under a "safe harbor" agreement that was invalidated by the court. The Judicial Redress Act (H.R. 1428) would extend to citizens of certain countries (determined by the Department of Justice) the same rights that US citizens have to seek redress in court if their personal information is improperly handled.
---
Lawmakers Consider the Draft

Lawmakers are discussing the fate of the draft and whether women should be required to register for selective service.
In last week's Senate Committee on Armed Services hearing, top generals of the Marines and Army said if all combat roles are going to be open to women, then women should be required to register for the draft. Reps. Hunter [R, CA-50] and Zinke [R, MT-1] introduced a bill that would do just that.
H.R. 4478 DRAFT AMERICA'S DAUGHTERS ACT OF 2016
Sponsor: Rep. Duncan Hunter [R, CA-50]
The bill sponsor said he wanted to start a dialogue and force Congress to confront ramifications of Pentagon's recent decision to open all combat roles to women. "If the Administration wants to send 18-20-year-old women into combat, to serve and fight on the front lines, then the American people deserve to have this discussion through their elected representatives," Rep. Zinke said in a statement. "The discussion should have occurred before decision making of any type, but the fact that it didn't now compels Congress to take a honest and thorough at the issue."
This week, Sens. Ayotte [R, NH] and McCain [R, AZ] joined the call to register women for the draft. The chairman of the Senate Armed Services Committee said it was the "logical conclusion." Following all this talk, four lawmakers introduced a bill to abolish the draft.
H.R. 4523 TO REPEAL THE MILITARY SELECTIVE SERVICE ACT
Sponsor: Rep. Mike Coffman [R, CO-6] BIPARTISAN
The bill sponsor cited a 2012 Government Accountability Office report, which found enacting the draft would be costly and ineffective. GAO estimates $465 million to perform a draft and the Selective Service System wouldn't be able to provide inductees within the required 193 days.
---
FAA Reauthorization Passes House Committee


In a remarkable markup session that might just be the modern version of a "smoke-filled room," the House Transportation Committee passed a six-year Federal Aviation Administration Reauthorization bill (H.R. 4441), which now goes to the full House for consideration. The current FAA authorization expires on March 31, 2016.
H.R. 4441: AVIATION INNOVATION, REFORM, AND REAUTHORIZATION (AIRR) ACT
Sponsor: Rep. Bill Shuster [R, PA-9]

COMMITTEE PACKET | BILL TEXT | SUMMARY
The bill is actually one of the first we've seen with its own video trailer:

Some provisions of the AIRR Act (read full summary):
Spins off air traffic control services into a private not-for-profit "ATC Corporation" administered by an independent board of directors (with exceptions for Alaska and Hawaii)
Sets a hard deadline for the FAA to complete a centralized database of airline pilot records within 180 days of enactment.
Streamlines the FAA medical certification process for certain small aircraft pilots
Requires airlines to refund baggage fees for bags delayed more than 24 hours on domestic flights
Bans use of cell phones for in-flight voice communications on scheduled passenger flights
Ensures that airlines notify passengers of their consumer rights
Extends the Advisory Committee for Aviation Consumer Protection
Authorizes DOT to establish a smartphone application for consumer complaints
Requires large and medium airports to provide private rooms in every terminal for nursing mothers
Requires airlines to notify families, before tickets are booked, if family members are assigned seats that are not together
Creates a risk-based permitting process for drones

Rep. Duncan Hunter [R, CA-50] set off quite a discussion as the committee debated his amendment that would have allowed vaping on airplanes. "Essential Air Service" for rural areas was originlaly discontinued under the bill, but restored with an amendment. Watch the full markup.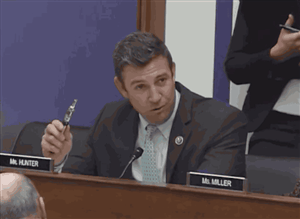 ---
Senate HELP Committee Advances Medical Innovation Bills

The Senate Health, Education, Labor, and Pensions Committee advanced seven medical innovation bills as part of a broader effort to develop Senate companion legislation to the House-passed 21st Century Cures Act (H.R. 6).
S. 2511: IMPROVING HEALTH INFORMATION TECHNOLOGY
Sponsor: Sen. Lamar Alexander [R, TN] BIPARTISAN
"The Improving Health IT Act would create a star rating program for federally certified electronic health record systems and direct federal regulators to address hospitals' ongoing issue with matching patients to their electronic health records and electronically exchanging patient records with other health-care providers."
Source: Bloomberg
S. 2030: ADVANCING TARGETED THERAPIES FOR RARE DISEASES ACT OF 2015
Sponsor: Sen. Michael Bennet [D, CO] BIPARTISAN
S. 1622: FDA DEVICE ACCOUNTABILITY ACT OF 2015
Sponsor: Sen. Richard Burr [R, NC] BIPARTISAN
S. 2014: NEXT GENERATION RESEARCHERS ACT
Sponsor: Sen. Tammy Baldwin [D, WI] BIPARTISAN

S. 800: ENHANCING THE STATURE AND VISIBILITY OF MEDICAL REHABILITATION RESEARCH AT THE NIH ACT
Sponsor: Sen. Mark Kirk [R, IL] BIPARTISAN
S. 849: ADVANCING RESEARCH FOR NEUROLOGICAL DISEASES ACT OF 2015
Sponsor: Sen. John Isakson [R, GA] BIPARTISAN
S. 2503: A BILL TO ESTABLISH REQUIREMENTS FOR REUSABLE MEDICAL DEVICES RELATING TO CLEANING INSTRUCTIONS AND VALIDATION DATA
Sponsor: Sen. Patty Murray [D, WA]
---
Customs Bill Heads to President with Internet Tax Moratorium


On Thursday, the Senate passed (75-20) a Customs and Trade Enforcement bill that now goes to the President.
BILL TEXT | SUMMARY | SECTION-BY-SECTION

The bill contains provisions concerning:
Modernizing Customs and Border Protection Agency technology and streamlining processes.
Requiring the CBP to more aggressively investigate complaints that companies are evading anti-dumping or countervailing duties on imports by mislabeling or disguising the shipments.
Provides new tools for cracking down on currency manipulation
Permanent moratorium on the ability of state and local governments to impose taxes on Internet access or on certain electronic commerce.
In order to secure the ban on Internet access taxes, Senate Majority Leader Mitch McConnell pledged to bring the Marketplace Fairness Act (S. 698), which would allow any state to require sales tax collection by online out-of-state retailers, to the floor at some point this year.
S. 698 MARKETPLACE FAIRNESS ACT OF 2015
Sponsor: Sen. Michael Enzi [R, WY]
BILL TEXT | SUMMARY
---
SCOTUS Temporarily Halts Implementation of Obama Climate Plan


On Tuesday, the U.S. Supreme Court issued an order, a "stay," halting the implementation of the Obama Administration's signature climate initiative, the Clean Power Plan, pending the decision in a case underway in lower courts.
Law Professor Jonathan H. Adler explains in the Washington Post:
"As a practical matter, this stay means that the EPA may not continue to take any actions to implement or enforce the CPP pending the resolution of the state and industry challenge to the rule. That challenge is currently before the U.S. Court of Appeals for the D.C. Circuit, which will hear oral arguments on June 2."
As Alter explains, the decision may have been influenced by a 2015 case, Michigan v. EPA, in which the Court found that the EPA had exceeded its authority under the Clean Air Act to regulate fossil fuel-fired power plants, but since the court process took so long, most power plants had already complied with the regulation by the time the Court got to overturning it.
The stay simply means the EPA may not continue implementing the CPP until the lower court decides the outcome of the case before it.
---
#ICYMI
---
#DataDrop
---
Legislative Lowdown: States Edition
---
Weekend Reads

Inside Obama's White House: The Stories You've Never Heard Before from The Hill
Report: DOD Should Reevaluate Requirements for Selective Service System from Government Accountability Office
---
Please keep in mind that highlighting a bill does not imply POPVOX endorsement in any way. As always, our goal is to offer one more way to help you stay informed about the complex U.S. legislative system.