A Wednesday morning shooting at House Republicans' practice for the Congressional Baseball Game left five injured. The Congressional Baseball Game went ahead on Thursday night as scheduled, uniting lawmakers and much of political Washington, at least for one night.
In other news, a small group of GOP senators continues work on a health care bill, amid growing complaints about the secrecy of the process. The House passed several bills in its "Part Three" plan for revamping the health system.
The Senate voted on several significant international affairs bills, including narrowly approving the Saudi Arms Sale, overwhelmingly passing an amendment to add tough sanctions on Russia to its Iran sanctions bill, and an amendment reaffirming America's commitment to NATO's Article 5 "mutual assistance" principle.
---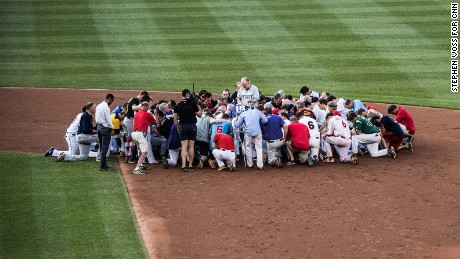 image credit: Stephen Voss, CNN

House Majority Whip Steve Scalise [LA] remains in critical but improving condition (statement from his wife). His armed Capitol Police security detail prevented a much greater tragedy. Heroic officers Crystal Griner [MD] and David Bailey [NC] sustained injuries but ultimately stopped the gunman. A current staffer, Zack Barth [TX] and former staffer Matt Mika [MI] were also injured in the attack.
The Congressional Baseball Game went ahead on Thursday night as scheduled. It was an unusual scene of unity, with members in tee shirts standing side by side with rivals, cheering on "Team Scalise" in support of the majority whip. Officer Bailey threw out the first pitch. Members knelt together to pray before the game began. Speaker Ryan and Majority Leader Pelosi gave first joint interview.
image credit: Erica Werner
At 24,959 tickets sold, he CBG outsold Thursday MLB games in Chicago, Cleveland, Detroit, Minnesota and Oakland, and raised over $1 million for charity. Even late night comedians had nothing but props for the responses of the president and MOCs to the tragedy. It was a co-ed game, with Reps. Sánchez and Barragán both scoring runs. Democrats technically took the game 11-2, but gave the Roll Call trophy to Republicans to keep in the Scalise office.
With the unity, resilience and bipartisan spirit shown, Members of Congress may have been the ones on the field, but all of America won last night.
---

This week the House passed a bill to change accountability procedures at the Department of Veteran's Affairs:
As reported by Federal News Radio, the bill will:
Shorten the time employees have to respond to a disciplinary action,
Shorten the time grievance process to 21 days,
Expedite the appeals process for rank-and-file employees with the Merit Systems Protection Board,
Eliminate the MSPB as an avenue for senior executives to appeal disciplinary actions. Instead, SES can appeal directly to the VA secretary and challenge the decision in the courts,
Codify and strengthen the Office of Accountability and Whistleblower Protection, which President Donald Trump created in a recent executive order, and
Prohibit bonuses and relocation expenses for employees who have been found guilty of wrongdoing or abuse.
---

The House passed several bills in its third of "Three Phases of Repeal and Replace" the Affordable Care Act. These include: a bill to allow health care tax credits to be used to pay for COBRA coverage and a bill to require verification of immigration status to qualify for health tax credits.
Work on the Senate health care bill continues though the chamber may miss its goal to vote on a health bill in June. That would set up a push to expedite the bill after the July 4 recess and "jam the House" before the August recess.
President Tump met this week with thirteen key moderate senators, and he had some harsh words for the House bill. According to recent polls, the public has questions about the bill too (view state-by-state public opinion).
On Friday, Minority Leader Schumer invites Leader McConnell and entire Senate GOP caucus to "family meeting" on health care next week. He also introduced a bill to prohibit expedited consideration of a reconciliation bill (like the health care bill).
---

In an overwhelmingly bipartisan vote (97-2), the Senate passed a sweeping sanctions bill impacting Iran and Russia; Sens. Rand Paul [R, KY] and Bernie Sanders [I, VT] voted no. The bill also "reaffirm the strategic importance" of NATO.
The measure calls for strengthening current sanctions and imposing new ones on a broad range of people, including Russians engaged in corruption, individuals in human rights abuses and anyone supplying weapons to the government of Syrian President Bashar Assad. Broad new sanctions would be imposed on Russia's mining, metals, shipping and railways sectors.

The measure would punish individuals who conduct what the senators described as "conducting malicious cyber activity on behalf of the Russian government." Also covered by the sanctions are people doing business with Russian intelligence and defense agencies.

The bill would significantly increase the role of Congress in foreign policy, and restrict the president from removing sanctions on Russia without Congressional approval. It now goes to the House where its future is less certain, amid reports that the White House is calling House members "to stop [the bill], slow it, weaken it, dilute it."

Tell your representative what you think about S. 722
(Iran and Russia sanctions)
---
---
Washington rocked over rumor Trump considering firing the special counsel, Bob Mueller

DAG Rosenstein told Judiciary Committee that Bob Mueller "would only be fired for good cause"

How Mueller could be fired (chart)

Nearly 200 House Democrats are suing the president claiming violation of the emoluments clause of the Constitution
LA Times keeping up with Everything President Trump has tweeted (and what it was about)

Rep. Quigley introduced "Communications Over Various Feeds Electronically for Engagement Act (yes, it's the "COVFEFE Act") to add "social media" to records that must be preserved under the Presidential Records Act (H.R. 2884)

Trump administration officially repealed DAPA (Deferred Action for Parents of Americans and lawful permanent residents), the Obama administration policy that had never been enacted due to ongoing lawsuits

DACA, deferred immigration action for "DREAMers", those brought to the US as children, remains in place

Rep. Sherman drafted articles of impeachment against the president – sparking a tense "family discussion" in the Dem caucus

First donation ever made by Trump Foundation in 1987 was to Shakespeare in the Park (now subject of Julius Caesar controversy)

Congress is getting less smart

The USPS used to be the center of gov innovation… can it get it back?

President Trump will renominate Democrat Jessica Rosenworcel, a net neutrality supporter, to return to the Federal Communications Commission

5-member FCC needs three commissioners for a quorum; it currently has three (2 Rs, 1 D) but the current Democrat's, Mignon Clyburn's, term expires at the end of June

President gave DoD unilateral authority over troop levels in Afghanistan

US Marshals made two arrests in case of violence against protesters by Turkish security guards in DC

Alex Pfeiffer will be the youngest White House correspondent

Judiciary Chairman Grassley to block DoJ nominees until his oversight requests are answered

Congresswoman or Wonder Woman?
---
---
General Mattis declared that North Korea is the most urgent threat to US security

Otto Warmbier, 22, was returned comatose, with severe brain injury, after being held in North Korea for 17 months

Former NBA star and Apprentice contestant Dennis Rodman returned to North Korea "trying to open a door" in a trip funded by Potcoin (crypto currency for weed)

Buzzfeed investigating mysterious case of Russian whistleblower murdered in London

Thirty people reported dead and many more missing after a devastating highrise fire in West London

Egypt may fine parents for giving their children western names like "Mark" or "Sam"

President Trump announced changes to the Obama Cuba policy in Miami

American "dental refugees" crossing border to get affordable dental care in Mexico

Elon Musk lays out the detailed plan for going to Mars

Though recently saying that Qatar funds terrorism, on Wednesday, the Trump administration authorized the country to purchase $21 billion in U.S. weapons

The Australian Prime Minister was recorded expressing some characteristically Aussie humor directed at President Trump
---
Please keep in mind that highlighting specific legislation does not imply POPVOX endorsement in any way. As always, our goal is to offer one more way to help you stay informed about the complex U.S. legislative system.