First 100 days…You're hearing a lot about President Trump's first 100 days, but here at POPVOX, we're all about Congress and legislation. Whether you've been too busy to pay attention or perhaps you got lost in all the developments (can you believe it's already April?), we've created a quick look at what Congress has been up to in its first 100 days.
Let's Start at the Very Beginning

As laid out in the Constitution, Congress convened a new session at noon on January 3, 2017 complete with the prayer and pledge, election of the Speaker of the House, and swearing-in of Members and Delegates (meet the new members). In the House, the 115th Congress kicked off with chaos and controversy over adoption of new House rules package (catch up on the OCE controversy and why talking to your lawmakers still matters). Eventually, the House agreed to new rules package — adding fines for video streaming and reinstating the Holman Rule to allow lawmakers to reduce specific government employees' pay to $1.
The House took its first votes, veterans bills from Reps. Costello and Roe; while the Senate moved to begin work on a budget resolution to start the process of repealing the Affordable Care Act.
On the amusing side, the start of a new Congress gave us #BidenCam with then Vice President Joe Biden joking with Senate families and a teenager that was later grounded for "dabbing" during the oath pictures.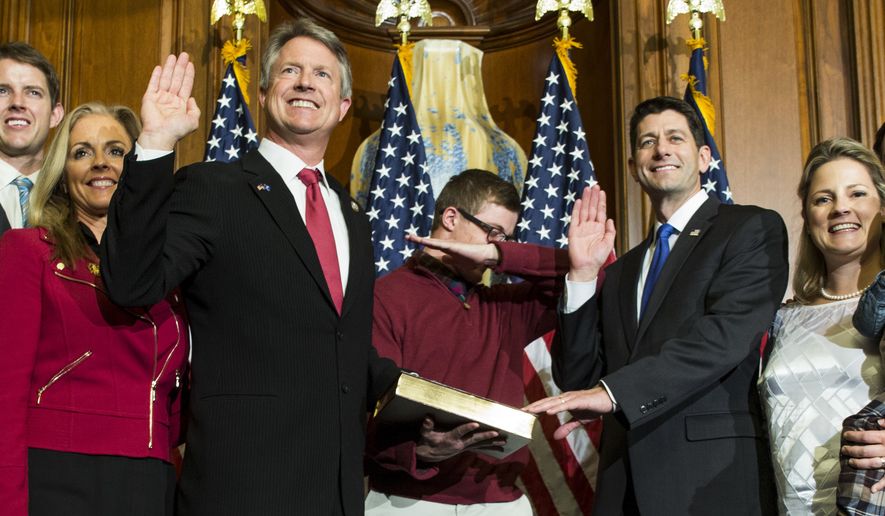 photo credit: Washington Times
---
Congressional Review Act

The Congressional Review Act (CRA) is having its moment in the sun. Congress has invoked the rarely-used law from the 1996 Contract with America to invalidate several Obama Administration regulations.
The CRA gives Congress sixty "session days" to overturn a rule issued by the executive branch. Since Congress met so few days in the last months of 2016, Congress can vote to invalidate rules issued as far back as May 2016.
In mid-February, President Trump signed the Huizenga resolution, disapproving of oil and gas reporting rule. You've probably seen it referenced as the "resource extraction" rule. It required oil, gas, and mining companies to report payments they made to federal and foreign governments to the Securities and Exchange Commission (SEC). This marked the first time in 16 years the Congressional Review Act was used to repeal a regulation.
In total, Congress has taken up 15 CRA resolutions in its first 100 days. Thirteen have passed both chambers and been signed into law by President Trump. Congress has until April 28 to use this legislative tool on Obama-era rules.
Learn more and see how your lawmakers voted:
Two CRA resolutions have passed the House but await action in the Senate:
---
Healthcare Reform

In the beginning of January, Congress took first steps in repealing the Affordable Care Act in the form of a budget resolution, setting up a "reconciliation" process that does not need sixty votes to progress in the Senate. Catch up on how it went down here, and see how your representative and senators voted on this first step.
At the end of February, a leaked Obamacare replacement bill spurred reactions from lawmakers, with several conservatives coming out against the plan. The proposal called for an end to the Medicaid expansion program and a reduction in subsidies. This led to an unusual week with reports of a "secret" bill in a "secure location" and scavenger hunts ending with lawmakers talking to statues. Here's how it all went down.
Following the secrecy and scavenger hunts, House Republicans officially unveiled legislation to repeal and replace the Affordable Care Act (ACA) during the second week of March. The plan, called the American Health Care Act (AHCA), included refundable tax credits and changes to Medicaid. The AHCA maintained some provisions from the ACA, such as allowing children to stay on their parents' insurance plans until age 26 and rules prohibiting insurers from denying people coverage based on preexisting conditions. (Here's a recap of the biggest changes at this juncture.)
House Rules held an all-day session to discuss amendments to the legislation. Proposed changes included allowing states an optional work requirement for Medicaid recipients and the option for a fixed Medicaid block grant instead of a per-enrollee payment. (Catch up on other changes.) The Congressional Budget Office (CBO) released an updated score for the revised AHCA, saying the newer revision would reduce the federal deficit by 55% less than the original version and the uninsured number would remain the same (24 million uninsured by 2026).
Washington spent the week on standby, waiting for a full House vote. The Rules committee voted along party lines to pass a "same day" rule (meaning the bill could be considered any time through the upcoming weekend). On Friday morning the House passed this same-day, closed rule (aka how they would debate the legislation, not the actual legislation). The vote was 230-194 — see how your representative voted here.
The final up and down vote on the bill was expected late Friday, at the urging of President Trump and the White House. Ultimately, House Republicans decided to pull the bill, lacking the votes for passage and in response to President Trump's request. (Here are some more details on how it went down.)
So what happens now? House Republicans are putting the "finishing touches" on a revised plan. President Trump is pushing for the House to vote before the end of April on the new deal, but it's unclear if the legislation will be ready in time or if the votes will be there.
---
Confirmation Hearings

The Senate has been busy with confirmation hearings. There are 554 key positions that require Senate confirmation and the Trump administration has formally nominated 46 people for these positions. Of those, the Senate has confirmed 22 nominees (47%). Check in on the nominations here.
See how your senators voted on nominees (in order of confirmation):


So what about the Cabinet?
The Senate has confirmed 87% of the Cabinet, with only Agriculture Secretary nominee, Sonny Perdue, and Labor Secretary nominee, Alex Acosta, awaiting confirmation (both were nominated later than other nominees). During the last week of March, Senate committees advanced both nominees to the full Senate for consideration.
Acosta in for Puzder
So what happened to Andrew Puzder? Well, Senate Health, Education, Labor, and Pensions (HELP) scheduled his confirmation hearing for Feb. 17, following four postponements due to missing ethics and disclosure paperwork. Two days before his confirmation hearing, Puzder withdrew from consideration, becoming the first Cabinet nominee to do so. Alexander Acosta was chosen as the new labor secretary nominee two days later.
Notable Moments in Cabinet Confirmations
The Senate confirmed two Trump nominees during his first week as president: Retired Gen. James Mattis for Secretary of Defense and Retired Gen. John Kelly. Congress had to pass a waiver for Mattis, exempting him from a federal law that states that defense secretaries must not have been on active duty in the previous seven years.
The second week of February brought marathon nights and new Senate milestones. Senate Democrats forced two all-night sessions to delay confirmation votes, leading to a full 57 hours in session — second in length only to the 1960 82-hour session on the Civil Rights bill. Then the final vote on Education Secretary nominee Betsy DeVos made U.S. history — the first cabinet nomination to require the Vice President to use his position as President of the Senate to break a tie.
During the debate over the nomination of then-senator/now-Attorney General Jeff Sessions, the Senate voted to discipline Senator Elizabeth Warren [D, MA] for reading a letter from the late Coretta Scott King, which a majority of senators said violated the rarely-invoked Rule XIX: "no Senator in debate shall, directly or indirectly, by any form of words impute to another Senator or to other Senators any conduct or motive unworthy or unbecoming a Senator." (Read the full rule.) Fun facts about Rule 19? It was created following an all out brawl in the Senate and includes a little known provision that entitles former presidents to address the Senate with appropriate notice. Sessions became the first attorney general from Alabama in U.S. history.
The next week the Senate stayed in session overnight again, as Senate Democrats expressed concerns about Scott Pruitt's nomination for administrator of the EPA (Environmental Protection Agency).
---
National Security Adviser Resigned

Michael Flynn resigned as national security adviser after reports he misled White House officials about his conversations with Russia. His 24-day tenure was the shortest in history for a national security adviser.
The Department of Justice reportedly warned the White House about Flynn's communications with Russia back in January, under the direction of then acting attorney general Sally Yates, who feared Flynn could be vulnerable to Russian blackmail attempts. The president told reporters he had no problem with the calls to Russia, but that Flynn's misrepresentations to Vice President Pence were "unacceptable."
Bipartisan senators called for a full briefing and transcript of the Flynn calls. House Oversight and Government Reform Chair Jason Chaffetz said the committee will not investigate Flynn but will investigate the leaks within the administration that led to the information becoming public. Senate Minority Leader Chuck Schumer called for an independent, outside investigation.
President Trump then named retired Lt. Gen. Keith Kellogg as acting national security adviser. Robert Harward, former CENTCOM commander under Defense Secretary James Mattis, turned down President Trump's offer to serve in the role permanently. Towards the end of February, President Trump selected Army Lt. Gen. H.R. McMaster to serve in the position. (His full name is Herbert Raymond, but he goes by H.R.) Lawmakers from both sides of the aisle praised the decision, noting McMaster's extensive experience. Sen. Tom Cotton [R, AR] once served under General McMaster and first suggested him for the position. This role does not require Senate approval, but McMaster will require Senate confirmation in order to maintain his military rank.
---
Sessions' Testimony Controversy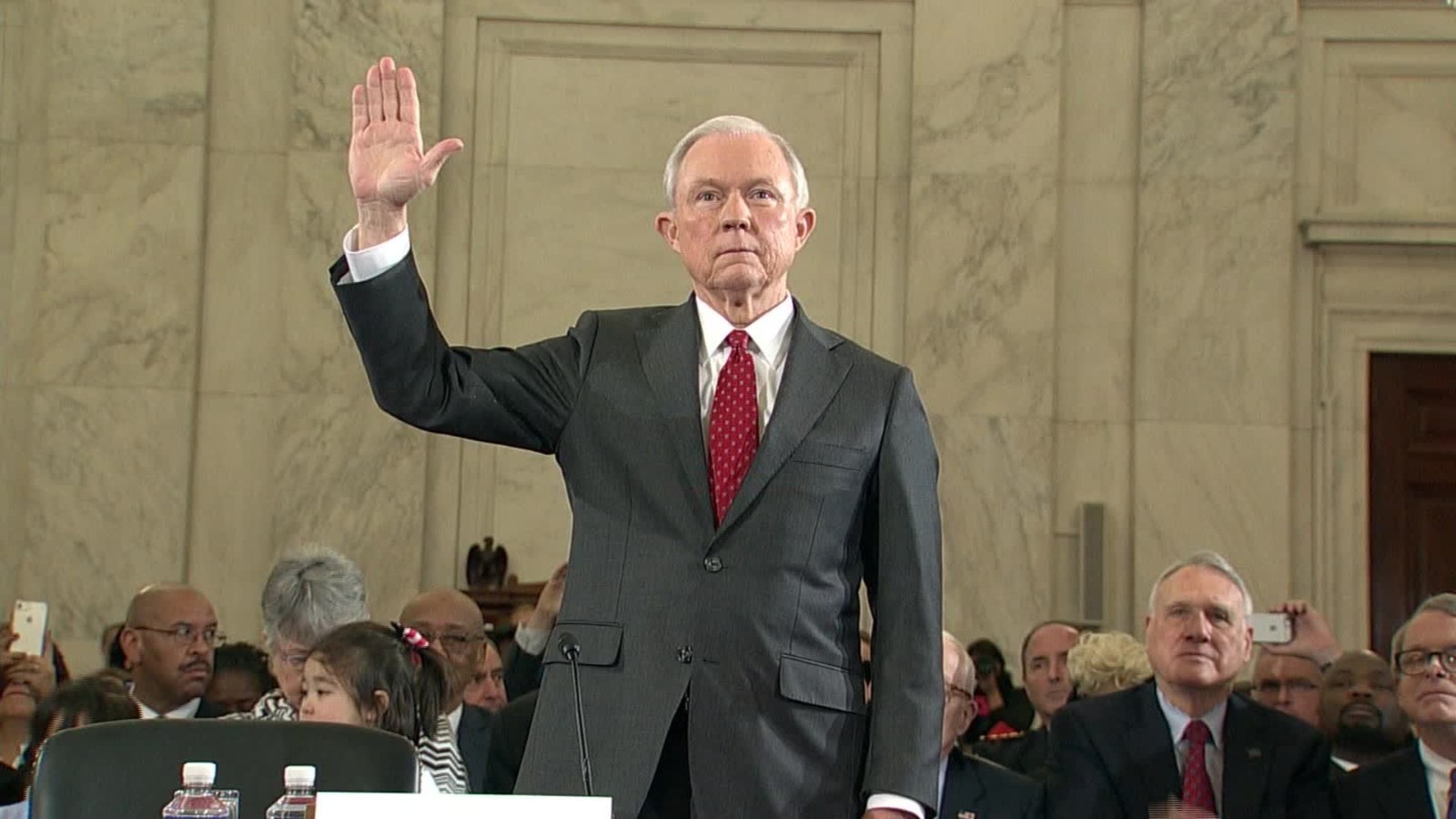 image credit: CNN
Lawmakers weighed in on reports that Attorney General Jeff Sessions communicated with Russian ambassador Sergey Kislyak during the presidential campaign, contradicting his Senate testimony.
Several senators called on Sessions to clarify his testimony through either an explanatory letter or by testifying again. Other lawmakers called for Sessions to recuse himself from the Russia investigation. Rep. Darrell Issa [R, CA-49] said recusal wasn't enough and instead called for a special prosecutor to take over the investigation, echoing comments from former President George W. Bush. Several lawmakers called for Sessions' resignation.
Sessions failed to disclose this communication while under oath during his confirmation hearing. He testified before Senate Judiciary that he was not aware of anyone affiliated with the Trump campaign having met with Russian officials. In response to a question submitted for the record, he said he had not been in contact with anyone connected to the Russian government regarding the election.
Sessions maintained that his conversations with the ambassador were part of his official duties as a senator and member of the Senate Armed Services committee (rather than a Trump surrogate). It was later revealed that Sessions used campaign funds for convention expenses, including the meeting with the Russian ambassador. Catch up on the timeline and details here.
---
Russia Investigations

Congressional committees have been investigating Russian hacking allegations and possible ties to the Trump campaign. At the end of January, Senate Intelligence announced it would investigate whether the Russian government had ties to political campaigns during the presidential election (reversing course from Chair's previous remarks). Shortly after, House Intelligence joined in Russia probe, launching the second Hill investigation committee. The scope of the investigation mirrors that of the Senate Intelligence investigation, including counterintelligence concerns related to links between Russia and political campaigns and Russian cyber activity and "active measures" directed against the U.S. (Read up on the details here.)
House Intel's Russia Probe
House Intelligence held the first public hearing regarding the Russia probe, with NSA Director Mike Rogers and FBI Director James Comey testifying. Director Comey confirmed the FBI is investigating Russian attempts to interfere in the 2016 presidential election (making it the third investigation in play). Catch up on the hearing (and what all those crazy terms like unmasking and FISA meant).
The House Intelligence investigation then became embroiled in controversy after Chair Devin Nunes said there was new intelligence to suggest possible legal surveillance of Trump's transition team. Congressman Nunes informed President Trump and the press on the information before updating the committee. Nunes later apologized to the full committee for the unusual order of communications. Bipartisan members of Senate Intelligence said they were unaware of such intel and requested agencies submit all relevant materials. This heightened calls from both sides of the aisle for a special committee. There's bipartisan legislation to create an independent bipartisan commission to investigate foreign interference in the 2016 presidential election. Learn more about it, and share your thoughts in support or opposition.
The next week House Intelligence was set to hold another public hearing regarding Russia investigation but ended up canceling its meetings for the week, amid calls for Nunes to recuse himself. Chairman Nunes said the committee needed to hold a closed session before proceeding.
There were reports that former CIA Director John Brennan briefed eight top members of Congress last August on increasing evidence of Russian interference in the election. Brennan was scheduled to testify before House Intelligence in March, but Chair Nunes canceled the hearing.
At the beginning of April, Nunes stepped aside in the Russia investigation. (Learn more about why). Rep. Mike Conaway [R, TX-11] took over the investigation. He will be assisted by Reps. Trey Gowdy [R, SC-4] and Tom Rooney [R, FL-17].
*UPDATE* Today House Intelligence re-invited several Obama administration officials to testify before the committee in a closed hearing on May 2: former CIA Director James Brennan, former Director of National Intelligence James Clapper, and former Deputy Attorney General Sally Yates. All three officials were originally invited to testify in March, but the hearing was cancelled. FBI Director James Comey and National Security Advisor Admiral Mike Rogers have also been invited to testify again.
Senate Intel's Russia Probe
Crossing over to the Senate side — Senate Intelligence held its first public hearing (a rarity for Senate Intel) at the end of March. The committee has received praised for its bipartisan approach to the investigation. Witnesses at the hearing described online tactics employed during the 2016 election as a continuation of Russian "active measures" dating back to the Cold War. Here are some notable moments you may have missed.
Offers To Testify
Meanwhile, former Trump campaign adviser Carter Page confirmed he met with Russian intelligence operatives. Former Trump advisers Roger Stone and Carter Page, as well as former Trump campaign chairman Paul Manafort, offered to testify before both House and Senate Intelligence committees. Former national security adviser Michael Flynn said he would testify on possible ties between Russia and the Trump campaign if granted immunity. Flynn made the offer to all three entities conducting investigations (FBI, House Intelligence, Senate Intelligence). Flynn's lawyer cited the politicized environment as his reason to seek immunity. If one entity grants immunity it can eliminate the ability of the others to prosecute. At the end of March, Senate Intelligence rejected Flynn's request. No word from House Intelligence or FBI regarding the same offer.
Supreme Court Justice

President Trump nominated then federal appeals court Judge Neil Gorsuch for the Supreme Court on January 31, 2017, over a year since President Obama first nominated Judge Merrick Garland for the same vacancy. Senate Republicans refused to hold hearings or votes on the Garland nomination, with Senate Majority Leader Mitch McConnell citing much-contested Senate precedent of not approving a president's nominee in the final year of his term.
When nominated, Judge Gorsuch (pronounced GORE-sitch) was serving on the 10th U.S. Circuit Court of Appeals, which covers Colorado, Kansas, New Mexico, Oklahoma, Utah, and Wyoming (and portions of Montana and Idaho). President Bush appointed Gorsuch to the post in 2006, and he was confirmed by the Senate in a voice vote. This teed up long-awaited Senate confirmation battle.
Gorsuch spent lots of time on the Hill meeting with senators and preparing for his confirmation hearings. He faced questions from members of the Senate Judiciary Committee for three days (20 hours!), with a fourth day focused on expert panelists. Catch up on the hearings here.
Ultimately, it took 419 days from Justice Antonin Scalia's death to confirm a nominee for the vacancy. Senate Democrats filibustered the nomination, leading Senate Republicans to invoke the so-called "nuclear option." The confirmation required Senate Majority Leader Mitch McConnell to make a formal change to Senate precedent – the requirement for sixty votes to end debate and proceed to a vote. The "nuclear option" allowed McConnell to rule that a simple majority vote was enough to consider the nomination. This ruling by the chair was then upheld by a majority of senators, ending the 60-vote filibuster for Supreme Court nominees. That left just the final confirmation vote (which came earlier than expected) and Gorsuch was confirmed to the Supreme Court by a vote of a vote of 54-45. Gorsuch is the youngest nominee in decades and could serve on the court for upwards of 30 years.
---
President Trump Addressed Congress

President Trump delivered his first address to a joint session of Congress. Why was it an address rather than a State of the Union? Simply put, because that's what Speaker Ryan invited the president to deliver. It follows precedent and is typical of first year presidents because they haven't been in office long enough to "authoritatively describe the state of the union." President Ronald Reagan began the tradition of a presidential address to Congress about a month after taking office, and it has continued ever since. Learn more and troll your friends who referred to it as the State of the Union.
Trump mentioned proposals for immigration reform, infrastructure, trade, tax reform, education, terrorism, and replacing the Affordable Care Act. Morning Consult has your back with a quick recap of the biggest moments. Read the full speech.
Fashion choices — Many of the 66 Democratic female lawmakers wore white clothing in a nod to the women's rights movement in the early 1900s. Commerce Secretary Wilbur Ross showed up in slippers to work.
---
Washington's Farewell Address

This year Senator Ben Sasse [R, NE] delivered Washington's farewell address, an annual tradition in the Senate, begun as a way to boost morale during the Civil War and has continued without interruption since 1896. A different senator is selected each year (alternating between political parties) to read the 7,461-word address. Delivery typically takes about 45 minutes. It is one of the Senate's longest and most bipartisan traditions. Learn more about the tradition, and read the full address.
---
President's Budget

On March 16, President Trump unveiled his "America First" budget proposal. It included significant cuts to the Environmental Protection Agency, State Department, and Agriculture and increases to Defense, Homeland Security, and Veterans Affairs. Trump's budget marks the first time a president has called for ending the national endowments (the National Endowment for the Arts and the National Endowment for the Humanities).
President Trump instructed federal agencies to assemble a budget that includes sharp increases in Defense Department spending and significant cuts to domestic agencies. The president proposed a $54 billion boost to defense funding. If you're confused about the interplay between the President's Budget and appropriations, this is for you.
---
Fiscal Year 17 Defense Appropriations

House version of FY17 defense appropriations was released at the beginning of March. The $578 billion appropriations bill dropped later than usual and would authorize $61.8 billion in emergency war funding. If you're scratching your head because it's already 2017, here's the deal — The Defense Department has been operating on 2016 funding since the beginning of FY17 last October. The department can not begin new programs or alter funding levels until Congress passes the 2017 appropriations bill. The 114th Congress failed to pass the FY17 defense appropriations, and this spending bill "closely reflects" the version that passed the House. (Check out the explanatory statement, as well as the bill highlights and full text.) The next week the House passed the bill by a vote of 371-48. It's now awaiting action in the Senate.
---
Debt Limit

The debt ceiling is a cap set by Congress on the amount of debt that can be issued by the US Treasury. Lawmakers began talking about raising the borrowing ceiling as the mid-March deadline approached. Remember: Congress sets the debt limit and only Congress can raise it.
Treasury Secretary Steven Mnuchin sent a letter to lawmakers, encouraging Congress to raise the debt limit. Congress last voted to do so in October 2015 as part of the two-year bipartisan budget deal (then Speaker John Boehner's promise to "clean the barn" before departing). See how your (then) representative and senators voted on the measure.
The 115th Congress has not voted to raise the debt limit. The current debt limit suspension expired and reset to about $20 trillion on March 16. There's plenty more to it (like why we're talking about the debt limit again), so check this out for more details.
---
Congressional Retreats

At the end of January, Congressional Republicans spent three days in Philly, discussing policy initiatives and jamming to White Ford Bronco. The retreat included addresses from President Trump, Vice President Pence, and British Prime Minister Theresa May.
Meanwhile, Democratic senators headed to West Virginia to refine their legislative agenda and discuss reconnecting with rural voters. During the second week of February, House Democrats convened in Baltimore for their annual policy retreat. The theme was "Fighting for All Americans," and members participated in sessions on national security, fake news, civil rights, and the economy.
If nothing else, enjoy these pics of lawmakers in ~casual~ attire.
---
Congressional Recess

Congress spent time working from home. A lot of people bill recess as time Congress "isn't working," but that's just not true.
Part of the problem is the name: recess. It reminds you of a break from school or perhaps that old cartoon show. The official term is "District Work Week." In parliamentary procedure, Congress "adjourns" and is said to stand in recess. Most Members of Congress use their time away from Washington to interact with constituents. They host town halls, visit local businesses and factories, and meet with constituents. These interactions inform their work when they return to Washington. Check the House and Senate calendars, and keep up with your lawmakers.
The lowdown on some legislation you may have heard about:
---
Really want to dig in?

Check the archives, and feel like you've been following every step of the way. Subscribe to our newsletters, and get the lowdown on Congress in your inbox each week!
---
Please keep in mind that highlighting specific legislation does not imply POPVOX endorsement in any way. As always, our goal is to offer one more way to help you stay informed about the complex U.S. legislative system.