The House was out this week.
All eyes were on inter-GOP negotiations in the Senate on the Graham-Cassidy amendment to the House health bill. With statements of opposition from two key GOP senators, the amendment appears on shaky ground; losing one more Republican vote would doom it.
This week: the Senate will take its last shot on health care before reconciliation authority (allowing a vote without the 60-vote filibuster) expires September 30.
House will vote on bills to reauthorize the FAA, tax preferences for those in hurricane recovery zones, and reauthorize information and human rights program targeting North Korea.
---
Weekly Recap

Graham-Cassidy sputters; reconciliation window closes September 30
---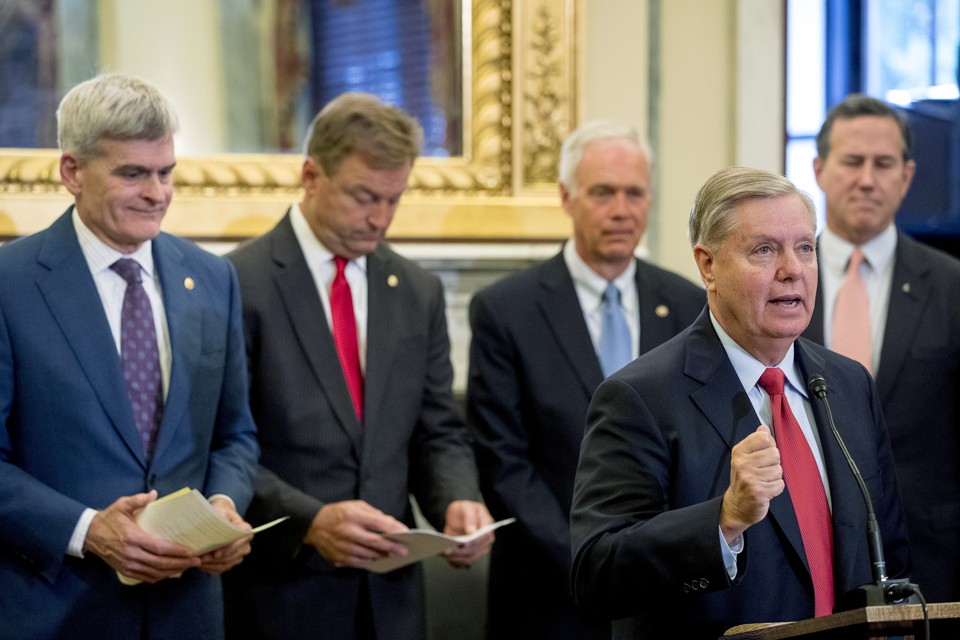 photo credit: The Atlantic

Last week, Republican leaders went all-in on the Graham-Cassidy amendment.
Majority Leader Mitch McConnell said he plans to bring the bill up for a vote on the Senate floor Wednesday. Republicans dropped the bipartisan effort to shore up insurance markets that had been progressing in the Senate HELP Committee. Speaker Paul Ryan said publicly that if Graham-Cassidy passed the Senate, it would get a vote in the House.
A Thursday announcement from Sen McCain [R, AZ], however, following Sen. Paul [R, KY]'s opposition, made the road ahead unsure for the proposal. Several other senators, including Collins [R, ME] and Murkowski [R, AK], who voted against the earlier "skinny repeal" also appear to be "leaning no."
TELL CONGRESS WHAT YOU THINK
Graham-Cassidy amendment to the American Health Care Act
The amendment still does not have a score from the Congressional Budget Office, but the independent group Avalere Health estimates that it would reduce federal health funding to states by $215 billion (with wide state-by-state variations in impact) and lead to a "Fiscal cliff" in 2026, when all funding would expire.

In the Senate:

On Monday, the Senate Finance Committee will hold a hearing on the Graham-Cassidy amendment to the house health care bill at 2 PM ET (watch on CSPAN). A vote on the amendment could come on Wednesday. Reconciliation authority (to hold the vote without the 60-vote filibuster) expires on September 30.
The Senate may also vote on a bill (S. 1827) to extend funding for the Children's Health Insurance Program (CHIP), which expires September 30.
The Senate may also take up the Disaster tax relief bill and FAA reauthorization, if passed by the House. FAA authorization expires September 30.
---
In the House:
The House will vote on a bill to provide tax breaks for people recovering from recent hurricanes and reauthorize the FAA. It will also consider a bill to reauthorize human rights efforts and strategic information dissemination in North Korea, and a bill to expand the definition of "fugitive felons."
H.R. ____: Disaster Tax Relief and Airport and Airway Extension Act of 2017 (DRAFT TEXT)
The bill combines temporary tax relief to the victims of Hurricanes Harvey, Irma, and Maria with a six-month extension of the Federal Aviation Administration (FAA) authorization and taxes.
S. 327: Fair Access to Investment Research Act of 2017
Sponsor: Sen. Dean Heller [R, NV]
Directs the Securities and Exchange Commission (SEC) to establish and implement a "safe harbor" for reports on ETF funds
H.R. 3229: To protect the safety of judges by extending the authority of the Judicial Conference to redact sensitive information contained in their financial disclosure reports
Sponsor: Rep. Hakeem Jeffries [D, NY-8]
H.R. 2792: Control Unlawful Fugitive Felons Act of 2017
Sponsor: Rep. Kristi Noem [R, SD-0]
Expands the number of people who are considered "fugitive felons" and would therefore be ineligible for benefits under the Supplemental Security Income (SSI) program.
H.R. 2061: North Korean Human Rights Reauthorization Act of 2017
Sponsor: Rep. Ileana Ros-Lehtinen [R, FL-27]
Reauthorizes the North Korean Human Rights Act of 2004
S. 1141: Women, Peace, and Security Act of 2017
Sponsor: Sen. Jeanne Shaheen [D, NH]
Requires the President to develop a strategy to promote the participation of women abroad in conflict prevention, management, resolution, and recovery.
H.R. 2824: Increasing Opportunity and Success for Children and Parents through Evidence-Based Home Visiting Act
Sponsor: Rep. Adrian Smith [R, NE-3]
Reauthorizes the Maternal, Infant, and Early Childhood Home Visiting program (MIECHV).
H.R. 2519: The American Legion 100th Anniversary Commemorative Coin Act
Sponsor: Rep. Timothy Walz [D, MN-1]
H.R. 1235: Naismith Memorial Basketball Hall of Fame Commemorative Coin Act
Sponsor: Rep. Richard Neal [D, MA-1]
S. 810: To facilitate construction of a bridge on certain property in Christian County, Missouri
Sponsor: Sen. Roy Blunt [R, MO]
H.Res. 311: Recognizing that for 50 years the Association of South East Asian Nations (ASEAN) has worked toward stability, prosperity, and peace in Southeast Asia
Sponsor: Rep. Joaquin Castro [D, TX-20]
---
Please keep in mind that highlighting a bill does not imply POPVOX endorsement in any way. As always, our goal is to offer one more way to help you stay informed about the complex U.S. legislative system.