House members return to Washington in the wake of the FBI Director firing that rocked Washington last week. For Police Week, the House will take on several related bills, including a bill making it easier to apply the death penalty in federal cases that involve the killing of a law enforcement officer.
The House will also take up a bipartisan Syria sanctions bill that would target the Assad regime and its supporters. Also in the House, a bill to update federal information technology.
The Senate is scheduled to vote on several nominations, including the Deputy Secretary of Transportation and the Associate Attorney General.

---
Syria Sanctions


The House will vote this week on a bipartisan bill to impose new sanctions on Syria and supporters of the Assad regime, begin investigations into war crimes, and encourage a negotiated solution.
The bill was scheduled for a vote in 2016 but the Obama White House leaned on Democrats to withdraw support to allow then-Secretary of State John Kerry's efforts to negotiate a ceasefire continue.
The bill is named after Syrian defector, (Code name: Caesar) a forensic photographer who, in 2014, disclosed 55,000 photos documenting Assad's mass torture and murder of civilians. To raise awareness, the photos were displayed at the United Nations and in the halls of Congress.


H.R. 1677: Caesar Syria Civilian Protection Act of 2017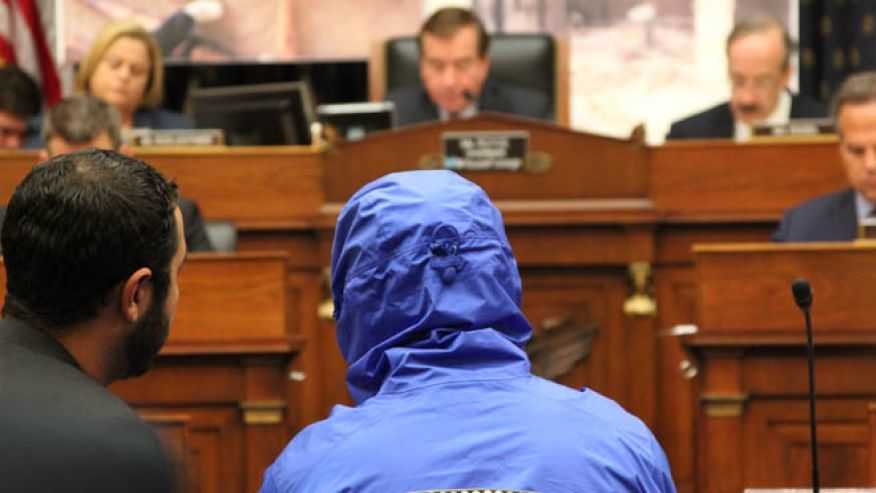 Sponsor:
Rep. Eliot Engel [D, NY-16]

---

National Police Week

President John F. Kennedy signed a proclamation in 1962 to designate May 15 as Peace Officers Memorial Day, and that week as
Police Week
. The 36th Annual National Peace Officers' Memorial Service will be held on the West Front of the U.S. Capitol at 11 a.m. on Monday, May 15, 2017, to honor law enforcement officers killed in the line of duty.
The House will vote on several bills related to law enforcement:
Sponsor:
Rep. Vern Buchanan [R, FL-16]
The bill would require federal courts to consider the murder, attempted murder, or targeting of a law enforcement official or first responder as an aggravating circumstance when determining if a death sentence is warranted for a convicted felon.
---
H.R. 1039: Probation Officer Protection Act of 2017
Sponsor:
Rep. David Reichert [R, WA-8]
The bill would allow probation officers to give orders and make arrests.

---
H.R. 510: Rapid DNA Act of 2017
Sponsor:
Rep. James Sensenbrenner [R, WI-5]
The bill would direct the Federal Bureau of Investigation (FBI) to issue standards and procedures for the use of certain automated processes to analyze DNA samples.
---
H.R. 1892: Honoring Hometown Heroes Act
Sponsor:
Rep. John Larson [D, CT-1]
The bill would amend federal law to allow a U.S. flag to be flown at half-staff following the death of a first responder in any state, territory, possession, or the District of Columbia.
---
H.R. 1428: American Law Enforcement Heroes Act of 2017
Sponsor:
Rep. Will Hurd [R, TX-23]
The bill will incentivize state and local governments to hire American veterans as new law enforcement officers.
---
H.R. 1616: Strengthening State and Local Cyber Crime Fighting Act of 2017
Sponsor:
Rep. John Ratcliffe [R, TX-4]

The bill would establish in the Department of Homeland Security (DHS) a National Computer Forensics Institute to educate and train state and local law enforcement officers, prosecutors, and judges on matters relating to cyber and electronic crime and to share information with such personnel in the prevention and investigation of those crimes. The department is currently carrying out activities similar to those required by the bill.
---
H.R. 2169: Improving Fusion Centers' Access to Information Act
Sponsor:
Rep. John Katko [R, NY-24]
---
Government Information Technology

H.R. 2227: Managing Government Technology (MGT) Act
Sponsor:
Rep. Will Hurd [R, TX-23]

The bill would establish new budget accounts to fund efforts to modernize government information technology (IT) systems. New accounts would include a working capital fund at each major agency that would be used to retire and replace older IT systems and a single government-wide technology and modernization fund to update federal IT systems and make them more secure. It also would establish a board of managers to oversee, evaluate, make recommendations, and monitor federal IT spending.
---
H.R. 194: Federal Agency Mail Management Act of 2017
Sponsor:
Rep. Steve Russell [R, OK-5]
The legislation would amend federal law to clarify that the General Services Administration (GSA) has the responsibility for promoting and recommending efficient practices for processing mail among federal agencies. GSA already performs this function.
---
H.R. 195: Federal Register Printing Savings Act of 2017
Sponsor:
Rep. Steve Russell [R, OK-5]
The bill would amend federal law to prohibit the Government Printing Office (GPO) from furnishing a printed copy of the Federal Register without charge to a Member of Congress or any employee of the U.S. government unless specifically requested.
---
Also in the House


H.R. 2266: Bankruptcy Judgeship Act of 2017
Sponsor:
Rep. John Conyers [D, MI-13]
Increasing the number of bankruptcy judges by converting temporary bankruptcy judges to permanent bankruptcy judges and authorize the appointment of additional bankruptcy judges.
---

H.R. 984: Thomasina E. Jordan Indian Tribes of Virginia Federal Recognition Act
Sponsor:
Rep. Robert Wittman [R, VA-1]
The bill would grant federal recognition to six Virginia Indian tribes that were among the first to greet English settlers in 1607: Chickahominy, the Eastern Chickahominy, the Upper Mattaponi, the Rappahannock, the Monacan and the Nansemond tribes.
---

H.R. 653: Federal Intern Protection Act of 2017
Sponsor:
Rep. Elijah Cummings [D, MD-7]
The bill would amend federal law to provide that unpaid federal interns are protected from workplace harassment and discrimination. (Paid interns are already considered employees for those purposes.)
---

H.R. 2213: Anti-Border Corruption Reauthorization Act
Sponsor:
Rep. Martha McSally [R, AZ-2]
---

H.R. 2281: Border Enforcement Security Task Force Reauthorization Act
Sponsor:
---

H.R. 1177: Removing Outdated Restrictions to Allow for Job Growth Act
Sponsor:
Rep. Bruce Poliquin [R, ME-2]
---

H.R. 2154: To rename the Red River Valley Agricultural Research Center in Fargo, North Dakota, as the Edward T. Schafer Agricultural Research Center
Sponsor:
Rep. Kevin Cramer [R, ND]
---

H.R. 672: Combating European Anti-Semitism Act
Sponsor:
Rep. Nita Lowey [D, NY-17]
---

H.Res. 145: Expressing the sense of the House of Representatives regarding the fight against corruption in Central America
Sponsor:
Rep. Norma Torres [D, CA-35]
---

Please keep in mind that highlighting a bill does not imply POPVOX endorsement in any way. As always, our goal is to offer one more way to help you stay informed about the complex U.S. legislative system.