You don't have to wait until the Presidential election to weigh in on the issues that are getting discussed on the campaign trail! Many of the issues that candidates discuss are already bills pending in Congress.
POPVOX has a long history of "Live-tweeting" the debates in real-time, highlighting bills that get a mention. In addition, for the rest of the 2016 cycle, we will follow up with a list of top bills on topics that get a mention.
Please note — for the candidates that are not currently serving in Congress, their positions may not completely correspond with the pending bills, so any mention or connection we make does not imply their explicit endorsement.
And, as always, POPVOX does not endorse or oppose bills. We highlight a range of bills and proposals to help YOU share your opinion (in support or opposition) with your Member of Congress!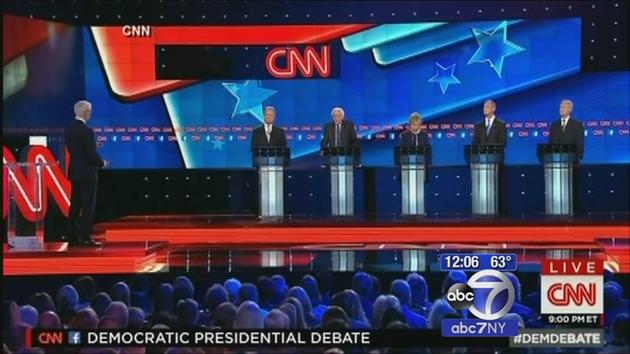 ---
Five Bills on Topics that Got a Mention at the #DemDebate:
Paid Leave

S. 786: FAMILY & MEDICAL INSURANCE LEAVE ACT
Sponsor: Sen. Kirsten Gillibrand (D, NY)
S. 786 would establish the Office of Paid Family and Medical Leave within the Social Security Administration and provide paid family and medical leave to certain individuals.
Gun Control

H.R. 3411: THE FIX GUN CHECKS ACT
Sponsor: Rep. Jackie Speier (D, CA)
According to the sponsor, H.R. 3411 would ensure that all individuals who should be prohibited from buying a firearm are listed in the national instant criminal background check system and require a background check for every firearm sale.
Financial Reform

S. 1709: THE 21ST CENTURY GLASS-STEAGALL ACT
Sponsor: Sen. Elizabeth Warren (D, MA)
According to its sponsor, S. 1709 would reduce risks to the financial system by limiting banks' ability to engage in certain risky activities and limiting conflicts of interest by reinstating certain Glass-Steagall Act protections that were repealed by the Gramm-Leach-Bliley Act.
International Trade

THE TRANS-PACIFIC PARTNERSHIP (TPP) TRADE AGREEMENT
The TPP was one of the first discussion topics of the debate. Agreement on the 12-nation deal, the largest regional trade accord in history, was announced earlier in October. Final language will be available publicly (for sixty days) after an initial 30-day private Congressional review period.
Minimum Wage

S. 1832: PAY WORKERS A LIVING WAGE ACT
Sponsor: Sen. Bernie Sanders (I, VT)
S. 1832 would increase the federal minimum wage for employees to $9.00 an hour in 2016, gradually rising to $15.00 per hour after four years.